Our second blog of National Apprenticeship Week comes from Neil Winsor, who is currently doing a Chartered Manager Degree Apprenticeship (CDMA).
A degree apprenticeship is a higher apprenticeship standard, equivalent of a masters or bachelor's degree. Read about Neil's journey below: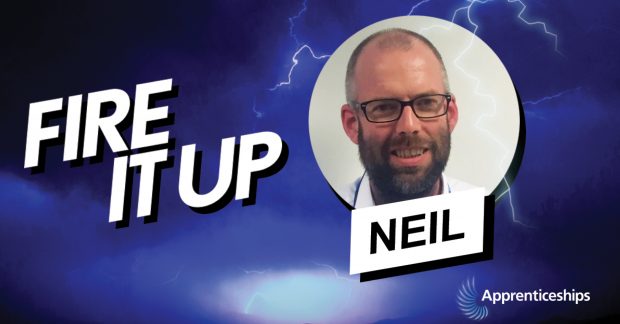 I've previously written about my experiences during my CMDA - that was a couple of years ago. I'm now coming to the end of my CMDA journey and thought it would be useful to give an honest account of my overall experience to help those that are considering an apprenticeship or for anyone that hasn't considered an apprenticeship but wants to advance their career.
I had intended to keep this blog brief and for those at the beginning of their career I will be brief: Embrace the opportunity of an apprenticeship with both hands - enjoy it and challenge yourself. There are a variety of apprenticeships available (LINK) and I'm sure there is something for you. Hopefully that's convinced you to go and enrol on an apprenticeship! If you're still reading carry on, you maybe want to know more.
I'm going to start from (almost) the beginning. I started in the Valuation Office over 15 years ago as a referencer. Although I enjoyed the role I decided that I didn't want to pursue a career in surveying through one of the development schemes available at the time. At that time formal supported development routes for other professions were not widely available.
As it happened, my next move was to a Learning and Development role where I completed a level 3 qualification in training and thoroughly enjoyed my work. After a few years I moved to a management role within the L&D team, and around the same time apprenticeships were relaunched. With the relaunch of apprenticeships came many different routes to develop careers. One of the apprenticeship opportunities available at the time was the CMDA.
The main aspect that attracted me to the CMDA was to opportunity to earn a degree whilst still working full time. It also enabled me to increase my skills and knowledge, as well as allowing me to advance my career in leadership and management. If I'm honest, I enrolled into the CMDA without fully appreciating what was involved, however, if I had known then what I now know I still would have taken the opportunity.
In short to complete the CMDA you first need to complete a degree (BA Hons) in management which takes three years - you then have a year to complete an end point assessment (EPA) which consists of:
completion of a work based project
A portfolio of evidence built up over the course of the CMDA linked to certain standards
A presentation
A professional discussion/interview based on your portfolio and project
In October 2020 I completed my degree, achieving a first. I'm really proud of this as when I started in 2017 I would have been happy with a 2:2, but that quickly changed as I was helped to realise my own ability and potential
Reflecting on my experience through the degree, I really enjoyed learning about many aspects of business, leadership and management. The fact that it was part of an apprenticeship encouraged me to put my learning into practice in the workplace. It was tough though and the subject matter was difficult at times as was the time commitment.
You are allocated 20% of your time for off-the-job learning - this can be used for academic study or for putting your learning into practice to produce evidence for your portfolio. While this is very generous and in some weeks is enough to complete everything you need to do, there is an additional commitment that you need to make. At the end of the day you are doing a full time degree whilst working. It is manageable and I'm the proof!  But sometimes you do find yourself working late into the evening and over weekends for the duration of the qualification, it can be difficult balancing work, family, social life and study.
The commitment is worth it though. I feel more confident and better equipped to excel in my role and further develop my career. The apprenticeship required me to explore parts of the VO I would not have previously looked at and I now appreciate the complexities of making the VOA function as well as it does. For me the main takeaway has been identifying a career in leadership and management and the many possibilities and transferable skills the CMDA has given me.
I'm currently going through my EPA and have almost completed my portfolio of evidence. For me this has been the most difficult part, although I'm not sure why. For anyone beginning an apprenticeship my advice is to get up to speed on this element as soon as possible and start collecting and recording the evidence as quickly as you can. If you leave it till the end it seems to be a huge task which it needn't be.
I'm hoping to have my apprenticeship completed by the end of April. Once completed I hope to move onto studying for an MBA or perhaps a level 7 apprenticeship. I think this in itself demonstrates how beneficial I have found the CMDA, if I had not found it useful or enjoyable I wouldn't be going back for more.