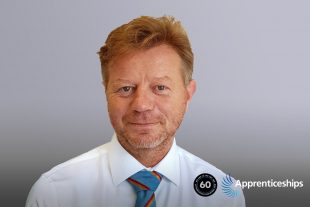 The work of the Valuation Office Agency enables government to bring in more than £51 billion in local taxation, which is reinvested into the communities where you live. We couldn't deliver this without great people at every level.
Central to this is making sure we have first class training and development opportunities. I'm incredibly proud of the VOA's track-record in this area. That's why I want to take the opportunity during this year's National Apprenticeship Week to celebrate the significant contribution that apprentices make to the agency.
I am really pleased to say that last year the VOA featured in the Top 100 Apprentice Employers List, coming 60th, and we're one of the top 10 apprentice employers within government. We lead the way in offering the best development programmes for Chartered Surveyors in the country.
Our apprenticeships give our people the opportunity to progress in a career with us, as well as enabling us to attract a more diverse range of people at different stages of their lives and careers.
As one of the largest employers of Chartered Surveyors in the country, it's of course important that we play our part in supporting the profession. We had our first ever apprentice qualifying as a Chartered Surveyor in 2019; they were the first of now many. A fantastic achievement for individuals, the Agency and the profession!
We of course also recognise the need to grow and nurture talent across all areas of the agency. We need great people with a broad set of skills in order to deliver our business. We currently have more than 200 apprentices, working across all areas including customer service, HR and finance. I am committed to supporting our current and future colleagues to reach their full potential and I am excited about what we can achieve together.
It's vital we make sure our apprenticeships are industry-recognised and of the best quality. We are currently working with Invest in Apprenticeships, an independent body that will provide even more assurance that our apprenticeships are delivering as they should be.
We are always looking for more talented individuals, and will continue to invest in our people to ensure the quality of the service we provide. Keep an eye on Civil Service Jobs as well as our LinkedIn and Twitter for the latest round of apprenticeship recruitment opportunities. I hope the stories we share throughout this week help to show how rewarding an apprenticeship with the VOA can be.