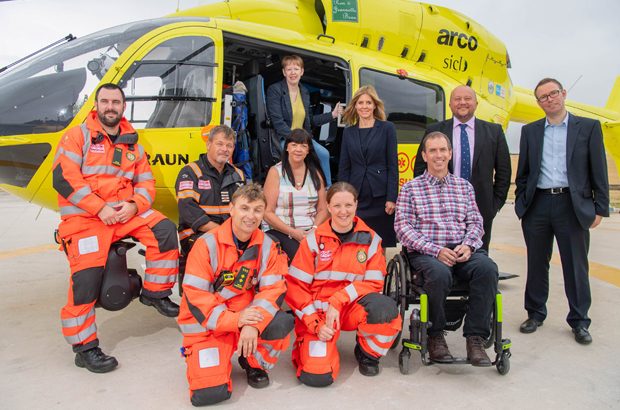 Our Charity of the Year for 2018-19 is the Association of Air Ambulances Charity (AAAC). To celebrate National Air Ambulance Week (10 to 16 September), colleagues are taking part in fundraising activities. So far we've raised £4000 for the charity.
Former colleague Adrian had the opportunity to visit the Yorkshire Air Ambulance airbase at Nostell Priory near Wakefield to thank those that saved his life following a life threatening accident in March last year.
Adrian was accompanied by his wife Karen, Thomas Lindie, Director of Central Operations, David Nicholls, Head of People Advisory Services, and Jo Moore, Central Operations Team Leader (and Adrian's former line manager). It was also an opportunity to formally launch the national fundraising partnership between the VOA and AAAC.
Adrian said of the day, "Karen and I had a great day with VOA friends and colleagues, meeting the dedicated team of professionals who came to our rescue last year. Without this valuable service the outcome of our accident would have been very different!
"The Air Ambulance service has positively impacted on the lives of so many friends and family who have suffered accidents whilst out on horseback, cycling, motorcycling and many other activities.
"It's fantastic to know that the VOA's Charity of the Year nomination for 2018-19 will hopefully go on to boost the invaluable funds required to keep this vital service going."
Here's a video of the visit to the airbase, with comments from all of the VOA colleagues who attended as well from Adrian and his wife, Karen.
The Association of Air Ambulances is our Charity of the Year - we'll post more updates of the fundraising efforts of VOA staff here and on our LinkedIn and Twitter pages. Visit the Yorkshire Air Ambulance website for more stories of their incredible life-saving work.