Throughout 2018, the Civil Service is celebrating the centenary of (some) women over 30 and all men over 21 winning the right to vote. How many people in the property profession realise it was another year until women were able to practise as chartered surveyors?
Between now and the centenary of the Sex Disqualification (Removal) Act 1919 on 23 December 2019, we'll be sharing the past, present and future of women in surveying professions. The Act stated:
A person shall not be disqualified by sex or marriage from the exercise of any public function, or from being appointed to or holding any civil or judicial office or post, or from entering or assuming or carrying on any civil profession or vocation, or for admission to any incorporated society (whether incorporated by Royal Charter or otherwise).
This opened up the Civil Service, the law and, of course, the Royal Institution of Chartered Surveyors (RICS) to women who had previously been barred. The Valuation Office Agency is one of the largest employers of female RICS professionals in the UK.
The trailblazer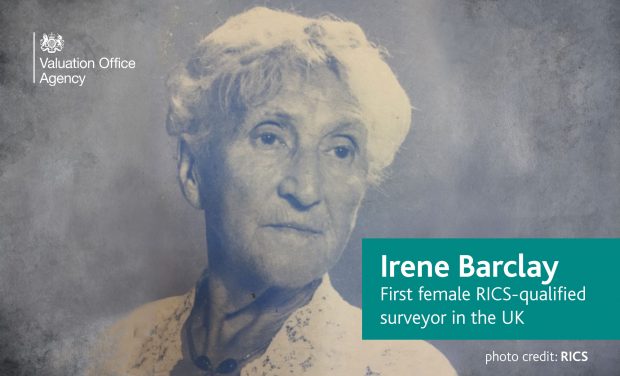 The first woman to qualify as a RICS Professional Associate was Irene Barclay (née Martin) in 1922, within three years of the Act. Evelyn Perry followed her in 1923. Irene recalled their time studying in her autobiography:
We were the only girls in a crowd of young men and I remember that the lecturer who dealt with drainage and sanitation was acutely embarrassed, poor man…
Irene became a Fellow in 1931 and Evelyn in 1937. They formed a partnership, Barclay and Perry, which they ran until 1940. Irene continued to practise until 1972, marking 50 years in the profession. She was an active social reformer, focusing on improving housing conditions in the St Pancras slums in London between the First and Second World Wars. She received the Order of the British Empire for her voluntary work. She is commemorated in the Somers Town Mural in Camden.
We're excited to be supporting the UK Civil Service celebration of the centenary of (some) women getting the vote. You can follow us here on gov.uk as well as on Twitter to get updates and more stories of pioneering women in surveying.